The duvets are made with the finest down at our factory in Trondheim, Norway. They can be made uniquely made for you.
Our product is made for you. We are able to custom make a duvet to fit any size and warmth or cooling requirement. In other words, we are able to cater to any climate around the world, as well as any personal preference.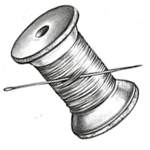 We design our products to last for a very long time and we want you to be completely happy with them.
Therefore, if you find that you want either more or less filling in your duvet or pillow after having tested them for a few nights, you are welcome to ship the products back to us and we will adjust them for you until you are completely happy.Excess down can be used towards extra duvets or pillows, so we avoid having to throw it away.
All Norvegr down duvets come with a 10-year guarantee.
Pillows take more beating, as you perspire mainly from your head, go to sleep with wet hair from time to time and hair product goes into the pillow.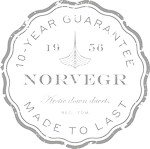 They therefore start losing their bounce after three to five years. However, because of down's fantastic ability to regain its shape and the durability of its most exclusive qualities, our products can last for decades when treated the right way. Norvegr is one of few companies out there that is able to restore down duvets and pillows, and every product we make comes with the option to restore several times over.
After roughly 5 years, we recommend that you send your pillows back to us for restoration. Duvets should be restored roughly every 10 years. In our service department, we will open the products, steam clean and dry the down, replace the cotton shells and top up the down.
Afterwards, they will be as good as new. The duvet warranty is extended for another 10 years. Furthermore, the process can be repeated several times over, with the same wonderful result every time. It is also substantially less expensive than replacing, and together we help conserve our planet's resources.
We are the oldest and the only specialist down cleaners left in Norway, and one of the very few in Europe. Having restored down products since the 1950s we have unique knowledge ensuring that your products perform superbly for decades. Investing in premium qualities or pure down is worthwhile, as its durability is second to none.
Our duvets are available in four different weights: summer, all year, winter and polar.
Due to their incredible lightness, our duvets have temperature regulating abilities that are unsurpassed. Norvegr has supplied hotels all over the world, in very different climates. We regularly receive orders from the guests, as a testament to the versatility of our duvets, and to the way they perform. Sleep better, live better.
It's natures ultimate luxury. We use only the very best down in our products. This is the best material there is for bedding, due to its magnificent balance between warmth and breathability.
To maximise on comfort, our duvets contain only 100% down – never feathers. We also use top-quality 100% Egyptian cotton in a batiste weave and thread count 328 for our duvet and pillow casings.
Our signature channel-constructed duvet design allows us to modify the amount of down in each channel. As part of the Norvegr service, we can adjust down levels to make your duvet warmer or cooler to suit your specifications.
We treat our customers as individuals. Buying the perfect duvet is a very personal thing, so before we adjust the levels of down we take into account everything from climate and season to a customer's disposition to hot and cold, and their room temperature preferences.
Despite what you may have heard, down products are in fact the best choice for those with allergies and asthma.
Allergic reactions to down and feathers are very rare, whilst allergies to mites are the chief issue for asthmatics. In fact, recent studies show that synthetic pillows may contain up to eight times more allergens from mites than down and feather-filled pillows.
It's natures ultimate luxury. We use only the very best down in our products. This is the best material there is for bedding, due to its magnificent balance between warmth and breathability.
Our down products are washable up to 60 degrees (as long as you follow the instructions). We strongly recommend using a professional cleaning service for your duvet, since home washing machines and tumble-dryers are generally too small.