Use our handy tips to keep your Norvegr duvets, pillows and bed linen in pristine condition. After five or 10 years, take advantage of our restoration service to revitalise your products and continue enjoying them for decades.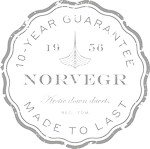 We recommend airing your duvets and pillows for a few hours before first using them or after they've been stored.
They can be aired inside or outside as long as they're not left in direct sunlight. Alternatively, put in the tumble dryer for half an hour on medium heat to speed up the process. Leave them to rest for a little while afterwards.
Air your duvets and pillows regularly
Give them a gentle shake each morning and fluff up the pillows
Leave the duvet folded over once lengthwise for an hour or so before you make the bed. This allows moisture inside both the mattress and duvet to escape
Do not beat, vacuum or dry-clean.
Between restoration cycles, you can clean your own pillows and duvets to keep them at peak performance. After a while, they will need to be returned to us for the down to be extracted and steam cleaned. Pillows need restoration roughly every five years, duvets every 10 years. For more information, see our restoration service.
We recommend that you wash and tumble dry products two to four times a year.
Pillows have to cope with hair product, damp hair, moisturiser and perspiration, so require more frequent washing than duvets.
When your pillow starts looking a little flat, it's time for a spruce-up.
For duvets, wash as you feel necessary.
Norvegr products can be washed at up to 60°C and tumble dried.
We strongly advise using a professional cleaning service for your duvet, as home washing machines and tumble dryers are generally too small.
To wash your pillows (and duvet, if you have a big machine) in the gentlest way possible, you need to allow approximately 12-18 hours.
Start with a wool detergent and use less than you would for your clothes
Choose a gentle setting on the washing machine, or a down program if your machine has one
After it has finished, rinse an extra two times. Select a moderate spin so the products are not completely squashed, and then place in the tumble dryer until they are almost dry. If possible, avoid using maximum heat
Take out and leave to finish drying on a table for a few hours. Pat and turn occasionally.
If you need to wash your bedding and sleep on it the same night, it's fine to wash the products at full spin and put in the tumble dryer until completely dry. The products can cope with this well and won't suffer any damage.
Just make sure to use less detergent than you would for your clothes and rinse twice extra once the main program is done.
Always store your products in the linen bags they came in.
Duvets and pillows should never be vacuum-packed as this will destroy the down.
Never store them in air- or watertight containers – they are natural products that need to breathe.
You've torn a hole in your pillow, spilled red wine on your duvet or singed it with a cigarette.
Don't Panic!
We can replace the cotton casing or even clean the down. All repair procedures are far more cost-effective than purchasing new products.
Email us at info@norvegr.com or call +47 72 90 04 35, Monday to Friday, 9am-5pm CET and we'll find the perfect solution.
Machine-wash with warm water on a gentle cycle.
Do not use bleach – it may weaken the fabric and cause yellowing.
Do not use fabric softener.
Wash dark colours separately.
Tumble dry on a low heat and remove while still damp.
Iron on a cotton setting to restore lustre and sheen.