NORVEGR: MAKING SLEEP A DREAM SINCE the 1950s
Norvegr handcrafts the most comfortable down duvets and pillows in the world. A family business and heritage brand, for nearly 70 years we have been giving discerning customers their best ever night's sleep.
All our duvets are natural, sustainable, renewable and designed to last a lifetime. They are handcrafted to order in Trondheim, Norway, and shipped globally.
Our legacy is Norse. Our modus vivendi is pure modern-day Scandinavian. That means down duvets that are literally featherlight.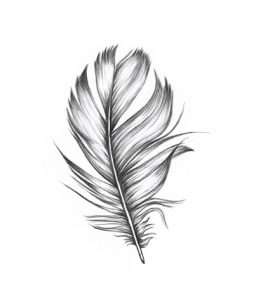 We use unique construction techniques to create ultra-light, ultra-soft products – like sleeping under a cloud. A perfect balance between insulation and breathability ensures supreme comfort throughout the night.
You will want to sleep under our duvets forever. And happily, you can.
Both our duvets and pillows can be returned every 10 and five years respectively for complete renewal. The down is restored by steam and harmless UV irradiation, then refilled and topped up. Casings are also replaced. This preserves their value for decades while sparing precious natural resources.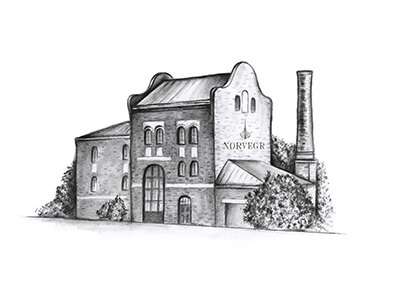 Our clients embrace some of the world's foremost interior designers, all regulars on Architectural Digest's AD100 and House & Garden's Top 100 lists. They include:
Designers for – and manufacturers of – private aircraft and yachts
Belmond, a collection of five-star hotels, trains and river cruisers
Select premier retailers and showrooms in Europe and America
At Norvegr, we proudly draw on our Viking heritage to create extraordinary bedding for an exclusive international clientele.
A REGAL CHOICE SINCE THE VIKING AGE
The Vikings knew a thing or two about comfort. Sumptuous down and feathers have been keeping Norwegians cosy for more than 1,000 years.
In 834 AD, the beautiful Oseberg Ship became Queen Asa of Agder's final resting place. Archaeologists examining her grave discovered an ornate bed, dressed with the most luxurious Viking Age textiles ever seen. Between the gorgeous fabric covers and inside the exquisite pillows were thick layers of the softest feather – pure eiderdown.In fact, furs, feathers and down from the highest latitudes were prized long before the Viking Age. Sable and eiderdown were marks of high rank for several reasons. Royalty and nobles knew that these elusive commodities were not only hard to obtain, but of exceptional quality. Arctic seabirds developed the best down to insulate their bodies against the freezing polar nights, just as Arctic mammals grew the warmest pelts.Eagle-eyed customers may have noticed the ship astern in Norvegr's logo. It is, of course, the Oseberg.
Queen Asa was not the only Viking enraptured by eiderdown. Ottar the Viking's epic voyage still fascinates today. Unlike many great sagas, however, this story is true.
In 870 AD, Ottar arrived at the palace of King Alfred the Great, in the Anglo-Saxon kingdom of Wessex. He captivated the royal court with colourful stories of his intrepid journey. As the fire blazed and the wine was poured, he explained the simple motive behind his quest:
"I wanted to find out how far north my country ended."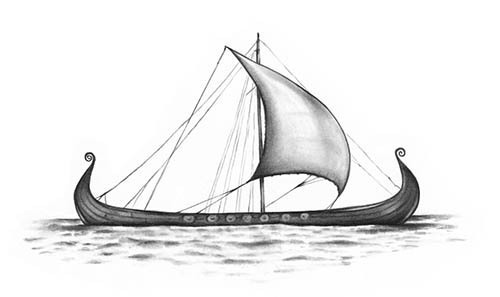 Ottar had set sail from Hålogaland, near the Arctic Circle, and voyaged the 'North Way' – otherwise known as 'Norvegr' – until the coast curved steeply to the east. Undeterred, he and his crew followed the route until they came to the land of the Bjarmers, in what we now know as Russia. No one had ever sailed that far north before.
During his travels he collected fur pelts, feathers and precious down. After many months, his voyage took him south along the Norwegian coast to Denmark, and finally to the court of King Alfred, where his treasures were eagerly received.
Perhaps it was the Viking's exotic accounts of his encounters with the sea Sami people and their whale and walrus hunting in the Arctic, or perhaps it was simply his gratitude for the downy gifts. Whatever the reason, Alfred was so impressed that he added Ottar's story to his Anglo-Saxon version of the Compendious History of the World by Paulus Orosius.
STILL FIT FOR ROYALTY TODAY
How do these tales relate to Norvegr? To us, they're of more than historical interest. They authenticate the tradition of luxurious down that underpins our family business.
Let's be honest: little can match the bliss of a perfect night's sleep. When we sleep well, everything else falls into place. This is the basis of Scandinavian happiness, and what Norvegr brings to you.
Filled with the finest down and covered in the softest pure cotton casings, our products really are something special. Many of our duvets are privately commissioned, creating one-of-a-kind products that will last for decades.
Almost 70 years on, we remain as passionate about genuine craftsmanship as the day we first set out on our journey.