Many people believe that thread count is all-important when it comes to choosing bed sheets. Yet thread count is a misleading factor that can take you down the wrong path.
Far more significant are the fibre, the weave, the finish and the way a fabric feels on your skin.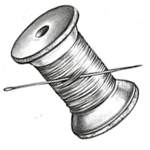 A fabric's thread count signifies the number of horizontal (weft) and vertical (warp) threads per square inch.
Bed linen thread counts vary from roughly 100 to more than 1,000. The obsession with thread count has driven numbers ever higher, even though the overall quality of the fabric is unexceptional.
Indeed, a very high thread count can indicate that several threads have been twisted together to artificially increase the tally.
What happens when you choose a too-high thread count?
The density of the fabric means it can easily become stiff, will not breathe well and will be difficult to wash.
The truth is the finest bed linens have a thread count range of just 200 to 600.
At Norvegr, we have carefully selected a 300 thread count sateen for our bed linen. Why?
• It combines luxurious sheen and softness with functional breathability and washability
• The fibre, weave and finish feel sensational on your skin
• It's sourced from Italy, producers of the best linen in the world
• It's the natural choice to complement our sublime duvets and pillows
No Two Bed Linens are Alike
It's all about touch: You can choose two types of bed linen with the same thread count and seemingly the same specifications, but distinctly different price tags.
Touch them and you'll discover why: the quality is poles apart. It pays to spend more on bed linen.
This is how Norvegr ensures the highest quality for our bed linen.
1. We use long staple cotton.
The longer the cotton fibre, the stronger, softer and more robust the end product. Our long staple cotton yarn is spun by mills with decades of experience.
2. Our yarns are single ply
Long fibre threads don't need to be twisted with each other to become strong. Such threads or yarns are called single ply.
3. We use skilled weavers
Different techniques are used to weave the yarn into fabric. As with any craft, the final quality depends on the manufacturer. Talented weavers create better fabrics.
4. Satin weave all the way
We've chosen satin weave for our bed linen because of its incredible softness and luxurious appearance. Also, because it's one thread under and three threads over.
Let us explain.
Three top threads on the fabric make it swish, shiny and sumptuous. Addictively soft, it complements our duvets and pillows superbly.
By comparison, a percale weave is one thread under and one thread over. It offers a crisper sensation – like a fresh shirt on your skin.
We use a process called 'singeing' to finish our high-quality fabrics. This lightly burns the surface to get rid of loose fibres and fuzz. The technique enhances the longevity and softness of the product.
A further process we employ is mercerising. This increases the fabric's lustre, strength and smoothness, boosts resistance to mildew and reduces lint.