THE ONLY DUVET YOU'LL EVER NEED
A product from Norvegr can potentially last for decades, making it a truly sustainable choice. A combination of excellent craftsmanship, natural durability and our unique restoration service means you can cherish your Norvegr duvet and pillows for a lifetime.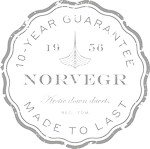 All Norvegr down duvets come with a 10-year guarantee.
Pillows generally take more of a battering than duvets, so they start to flatten faster. However, because of down's fantastic ability to regain its shape, it will last for decades when treated the right way. Its unique robustness means it can be given a new lease of life, time and time again.
Our family is the oldest and only specialist down cleaner in Norway, and one of the very few in Europe.
Having restored down products since the 1950s, we are adept at ensuring your duvet and pillows perform superbly for decades.
Naturally, this saves precious resources, making it the sustainable choice. It's also far less expensive than replacing the entire product.
Once you've purchased one of our down products, you're welcome to return it to us for restoration. We recommend restoring duvets roughly every 10 years and pillows every five years.
We begin by extracting the down from the product. We then steam clean it, dry it and sanitise it using harmless UV irradiation. We provide entirely new duvet and pillow shells, refill them with the clean down and top it up. Your duvet and pillows are returned to you as good as new, ready to ensure dreamy nights for years to come.
Cost-effective and convenient
Classic, Premium and Premium Plus duvets and pillows: cost is the retail price at time of restoration, divided by four.
Limited Edition duvets: cost is the retail price at time of restoration, divided by eight.
Shipping back and forth is extra, but thanks to a generous discount with our courier, costs are modest. We will gladly help arrange your product's return to make the process as effortless as possible for you.