Animal welfare is crucial to the Norvegr ethos and to every member of our team. Customers can be confident that all the down in our products is ethically sourced and that our practices adhere to the highest standards of humane handling and treatment.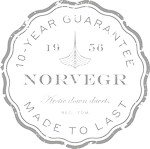 The eiderdown we use for our limited-edition duvets comes from abandoned eider duck nests on the Norwegian island of Svalbard.
After midsummer, the mother and her ducklings head out to sea until the next year.
We then collect the down from their abandoned nests, which they would never use again. At no point do we touch the birds ­­– the mother duck plucks the down from her own chest to line the nest.
For our Classic, Premium and Premium Plus Collection duvets, as well as our pillows, the down comes from geese that have been slaughtered for meat production. We strongly object to any form of live plucking.
Since launching our family business in Trondheim in the 1950s, we have been rigid in our choice of suppliers.
The few purveyors of down and feathers that we use are all located in Europe and hold certificates confirming that animal welfare is central to their business.
Accreditation and traceability
Certificates for traceability show which farm or slaughterhouse the down has come from. Issued by impartial institutes, the certificates attest that the amount of down bought from farms and slaughterhouses matches the amount sold.
Our suppliers are also regularly and randomly audited by assessors DIN CERTCO to ensure that they maintain the highest standards.
Our suppliers' accreditation includes the EDFA Traceability Standard Compliance Certificate and the Traumpass quality seal. This certifies that their down is traceable, not from live plucking and that the birds are humanely treated.
Furthermore, every shipment of down that we receive includes a veterinary certificate.