What is the secret behind a good night's sleep?
At Norvegr, we believe it's our handcrafted down duvets and pillows, the most luxurious and comfortable in the world.
From fill power to channel construction, casings to customisation, our products are truly unique.

Discover the USPs behind the Norvegr Formula.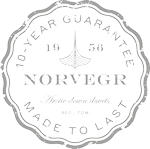 Tweaking, commissions and restoration
As part of our service, we can fine-tune a duvet after a customer has tested it. Maybe they want it warmer, maybe they want it cooler. Thanks to the channel construction, it's possible to empty the duvet casing and adjust the amount of filling as necessary.
Our range of Summer, All-year, Winter and Polar duvets is designed to cope with all seasons, temperatures and personal tastes.
Our duvets work as beautifully in hot and humid climates as they do in dry and cold ones. However, we also carry out private commissions, tailoring duvets to customers' specific requirements.
For example, we can create a double duvet that is warmer on one side for a sleeping partner who feels the cold.
All our duvets are machine washable and come with a 10-year guarantee. Every 10 years, they can be fully restored. They are revived by steam and harmless UV irradiation, then refilled and topped up. Casings are also replaced. This preserves the duvet for decades while sparing precious natural resources.
So, if you fall in love with your duvet and want to sleep under it forever, you can.
We source the finest qualities of down available in the marketplace. We use only eider and goose down, obtained from birds in the coldest climes which have developed the richest, most insulating coats.
With down, nature excels where science falters. Its insulating properties are second to none. This miracle fluff keeps its avian owners warm in frozen temperatures, yet comfortably cool when the mercury rises. It works in the same way in our duvets, ensuring we're snug when it's below zero outside and cool and dry when it's balmy. With supreme breathability and unbelievable lightness, it feels like sleeping under a cloud.
For most high-end duvets, 600 fill power is the benchmark. For Norvegr, it's not even the starting point: ours begin at 755.
Fill power is a measure of fluffiness or 'loft'. The higher the fill power, the more space one ounce of down takes up. This creates a better duvet for a number of reasons: it balances insulation and breathability more effectively; helps your body maintain a perfectly even and comfortable temperature all night long and allows heat and moisture to be transported away from your body and into the air.
When sourcing down for our products, fill power, density and cling are of the utmost importance.
Our collections – whether European snow-white goose down or the highly prized Norwegian eider down – move up through tiers, with these properties improving the higher you go.
The insulating, moisture-transportation and temperature-regulating abilities are also enhanced as you climb up through the levels.
We've been perfecting our signature channel construction since 1956. It allows us to achieve the right volume and fluffiness for comfort and warmth with the smallest amount of filling. Result? Duvets that insulate brilliantly yet weigh very little.
The secret is in the cross-seams: we don't use any. Instead, air flows freely from head to toe, providing optimal temperature and moisture regulation. This trumps box-stitched duvets, where the air can only circulate inside each box.
Channel-constructed duvets also wrap around your body better, keeping draughts at bay. The incredible lightness combined with the perfect balance between warming and cooling is irresistible.
It's something that thicker, heavier duvets can only dream of. In fact, weighty duvets are more likely to be poor quality, as cheaper filling has been stuffed in to achieve warmth.
We use the same shells across our four duvet collections. Crafted from pure cotton with a thread count of 328, they start off wonderfully soft and become more and more supple with use.
Many manufacturers conceal their outside seams in piping, which sleepers may sense against their skin. We prefer to hide our seams on the inside of the casing for a friction-free experience.
Furthermore, for the filling to reach all areas of the duvet, we never stitch all the way through the shell. Instead, we use 2.5cm-high baffle walls between all the channels. As a result, the duvet does not 'shrink' around the channel seam and the filling reaches every crevice.
How do we do it? We sew the entire shell with all the channels on the reverse. Once the channels are stitched together, we pull the shell out from inside each one. It's a complicated process, but it's worth it.